Whether your show needs to have a simple slap or a full scale sword fight, the safety of your actors is my primary consideration.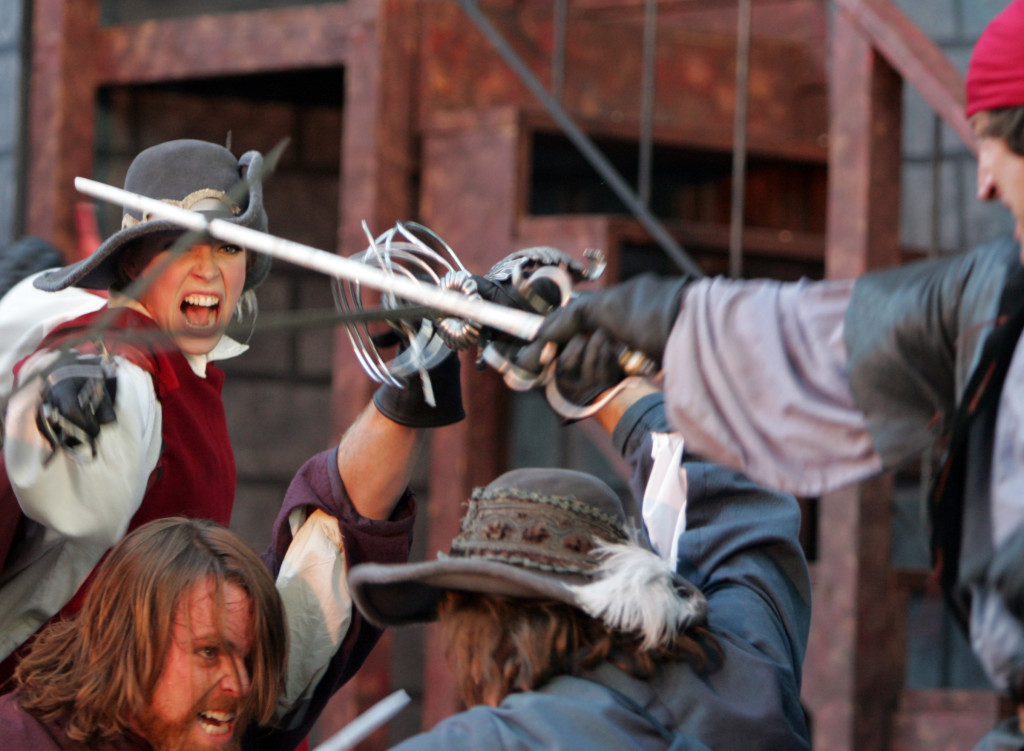 WHAT I DO:
I work with the actors and the design team to choreograph a fight that can best transmit the director's vision to the audience. (It most often is the case that I'll need to teach the actors the basic techniques of stage combat before teaching them the choreography.) With very few exceptions, I use only non-contact techniques that are within the capability of nearly any actor to perform safely.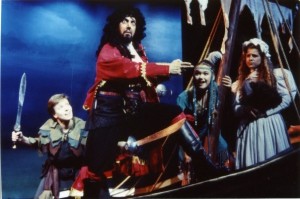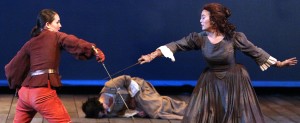 I also conduct stage combat workshops for schools and theatres. These are usually focused on learning either unarmed stage combat or single rapier, but the workshops can be custom fit to whatever the theatre requires.
My fee depends on the number of days and hours required, but also the distance I have to travel from my home base, Napa California. The per rehearsal cost can range from $100 to $200. The minimum fee is $100. No charge for consultation.
But there is also another way: have the mountain come to the maestro, as it were. If you can have your fighters drive to Napa on a weekend day, I'll teach them everything I can in a three-hour span for only $65.
COMING UP:
January  –  Reefer Madness          Left-Hand Theatre Co, Vallejo CA
February –   The Three Musketeers         Pierre Players. Pierre SD

__________________________________
"Do I Really Need To Have A Fight Choreographer?"
Perhaps not. Maybe the actors can work out the moment for themselves. But part of what I bring is a skill set that lets me anticipate where actors can get into trouble long before an injury has a chance of showing up. I've worked on over three hundred shows and with thousands of actors. I've learned a little something along the way that can both keep your audience engaged and your actors safe.
  Reasons NOT to hire a fight choreographer:
"I can't afford one."
Then why are you producing this play? There are many plays that don't have violence in them. Pick one of those. (If you can't afford a fight choreographer but still want to do the show, then cut the fights. An injury lawsuit is a lot more expensive than a fight choreographer.)
"There's only a slap (a fall, a shove). What could go wrong?"
I realize that hiring a fight choreographer in this situation seems like overkill. Chances are you will probably be able to get away with something acceptable to an audience. But be aware that most accidents occur doing the simple stuff, not the complicated routines. A fight choreographer can show an actor how to protect himself/herself and others in under an hour. [read more about the simple slap to the face]

"We have someone in the cast who has done some combat before. We can do this ourselves."
That may indeed be true. But actor training is built around performance of certain fight skills, not necessarily how to teach them to others or safely incorporate them into a show. And as a fight choreographer, I can tell you that I can't teach everything I know during a single show. I look at the given circumstances of the production and teach each actor enough to survive and thrive in that production. So the information an actor learns from performing in a show may not be enough to handle another. And often the best service that I offer is seeing accidents before they happen.
"They're only pratfalls. They aren't really combat."
Don't let the wording fool you. Clowning techniques are frequently taught in stage combat workshops. Stage combat, stage violence, fight choreography, et al., are incomplete definitions of what the fight choreographer does.  Anything involving violent or jerky movement, including simple stunts, is the arena of the fight choreographer. Not all violence is serious. It is frequently funny. Slipping on a banana peel is not combat, but it is part of what we can teach.